MEETINGS
UPDATED APRIL 2019

MEETING VENUE
First Floor, Music & Drama Block, Ashmole Academy,
Cecil Road, Southgate, London N14 5RJ
The building is marked below, the two-story building next to the original Music Room where we used to meet
(Marked with the X below - though this is now a brand new building)
NOTE the Academy has installed new fences and gates along the car parks. A new map is in preparation, but current access is either via the route as indicated by the current the red arrow, (now enclosed by fences), or via a new gate in the centre of the car parks.
The stairs are directly ahead of you through the marked door.
We either use the meeting room directly on the left at the top of the stairs, or the auditorium, which is left, and left again, along the corridor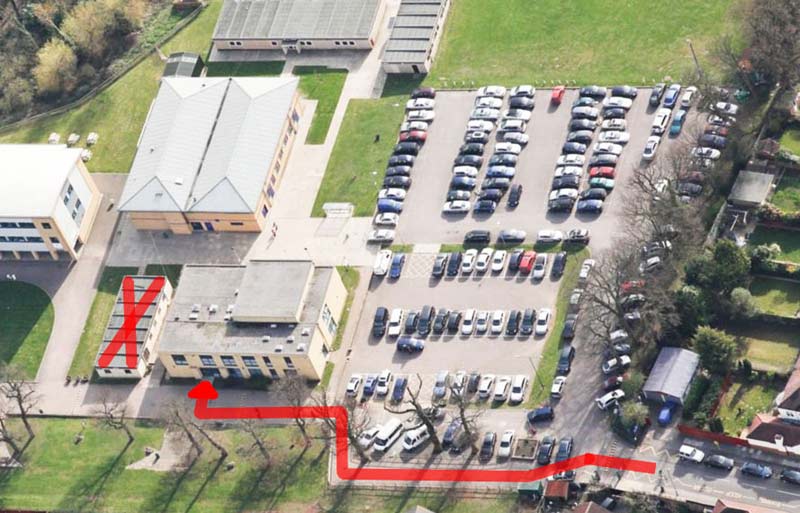 The day for all meetings is set at the third Thursday of the relevant month.
But in case of changes it is always advisable to double-check the dates below.
Correct up until press day, these dates will also be found in the magazine and mentioned on



Doors open - 7.30pm : Main speaker - 8.00pm. Finish - 10.00pm sharp
Meetings directly below are for 2018, reminders of 2017 & 2016 below these
Note that the NEXT meeting is always at the top of the list
(Previous meetings move to the bottom of the relevant year)
Clicking on photos where relevant (when you hover the mouse, the border will change colour) will bring up other website or Facebook pages.
2019

previously for 2019

The talk will be about the many problems with the prospect of living on Mars. From the lack of a protective magnetic field, poisonous atmosphere, lack of plant- growing sunlight and, (possibly the most devastating), the complete lack of pubs. Permanent occupation of Mars by humans may not be a possibility...

Greg works at the Royal Observatory Greenwich presenting planetarium shows, school workshops, adult evening classes and occassionaly presenting on radio and television. He also work for Astronomy Now magazine, creating artwork and writing articles.

He's given many lectures at various venues over the years, including the Society.

The Saturn Cassini probe has only a few month left - it will be steered to destruction in the Saturnian atmosphere in September 2017. It has been in space for 20 years and has been one of the most successful planetary probes ever.

Jim will be examining the legacy and what will be happening in the next few months.

We often assume all Society members automatically know all there is to know about telescope and viewing, but of course they may not, and anyway new members arrive, and they may not be fully knowledgeable as to 'how to get the best out of your instrument'!

So for this meeting, Observing Officers Jim Webb (right) and Alister innes (left) will take you through the basics, including the different types of 'scopes and lenses, and of course that a good pair of binoculars are also very useful for viewing the heavens

This slightly enigmatic title refers to the fact that firstly SETI - the Search for Extraterrestrial Intelligence - is still alive and well, and now through BOINC (Berkeley Open Infrastructure for Network Computing) anyone with spare downtime on their home computer (and most home computers are only used at 1% of their capacity) can join in the search.

Past ASH member George Emsden, who participates in the exercise, will show how it is all achieved!

No meetings these months

OBSERVING EVENING


Meet at the Barnet Observing Site see details.

The Moon is just over half, so the terminator - the line between light and dark - will show the mountains and craters far better than at Full Moon

Jupiter will also be rising during the evening


More on the recent New Horizon probe encounter with what is still referred to by many as 'the outermost planet'. Mike Goldsmith has written an intriguing book on all aspects of the planet (dwarf or not...); its discovery; recent demotion and the latest findings from New Horizons. The book also includes other aspects of Pluto, such as its mention in fiction - and that includes Doctor Who!

Dr Mike Goldsmith studied variable stars and cosmic dust at Keele University, receiving his Ph D in 1987. Since then he has written more than fifty books and scientific papers on a variety of subjects, including astronomy and astrophysics. He worked in the field of acoustics for many years, as head of the Acoustics Group at the UK's National Physical Laboratory. He is now a freelance researcher and science writer.

OBSERVING EVENING


Meet at the Barnet Observing Site see details.

The Moon is almost full, so a good comparison to the February meeting. The Lyrid Meteor Shower is at near-peak, and although the bright Moon isn't the best situation, you never know!

Plus Jupiter is still bright and Mercury could just about be visible???

Fermilab, set in the corn fields of Illinois, about 30 miles west of Chicago, is not quite as large as CERN, but it came first. Visibly the site is dominated by the impressive Wilson Hall. (left)

Fermilab runs many international projects and it is also the centre for DUNE - Deep Underground Neutrino Experiment - shooting these elusive particles underground to a similar facility at Stanford, 800 miles away.

Includes a trip 1000 feet underground to meet the detectors!

Elon Musk says he wants to visit the International Space Station aboard his own craft by 2020 -- and he doesn't think it will be "that hard". Speaking at the StartmeupHK Festival in Hong Kong, Musk said the company was also looking further ahead, to Mars and beyond, and could unveil its plan to do so as soon as September 2016.

Michael Franks has been digging deeper and will explain more at this meeting

No Meeting these months

Will this be the Gold Rush of the 21st Century? The prospectors will certainly be a tad more sophisticated than their 19the Century distant relatives, but the rewards could be as great - if not greater...
Michael Franks has been delving into the practicalities - which seems will involve slightly more than a shovel and sieve!

This Meeting will also include the AGM

This enigmatic title refers to 2016 being the 90th Anniversary of the launch of the world's first liquid-fuelled rocket. This was on March 26th 1926 by Robert H Goddard in Auburn, Massachusetts.

Jerry has been delving deeper into this very important milestone- which will also reveal the 'why' of 'Nell', 'Esther' and 'Aunt Effie'...

THIS TALK WAS MOVED FROM THE SEPTEMBER DATE